Aggh! It's the Dead Hand, a mini boss seen in the spooky Bottom of the Well and Shadow Temple in
Ocarina of Time.
A surpisingly detailed and fun model to build. It is probably to scale with the Dekus but will be small compared to my standard human scale.
The monster is a fleshy undead mass which lives underground. Several arms on the end of long stalks project out of the ground in a circle to grab victims, after which the Dead Hand will rise up and attack with its huge mouth and teeth.
The model comes as two parts by default: The monster itself, and a single arm stalk and stand. However you can build more than one stalks for a diorama feel, or none at all if you wish.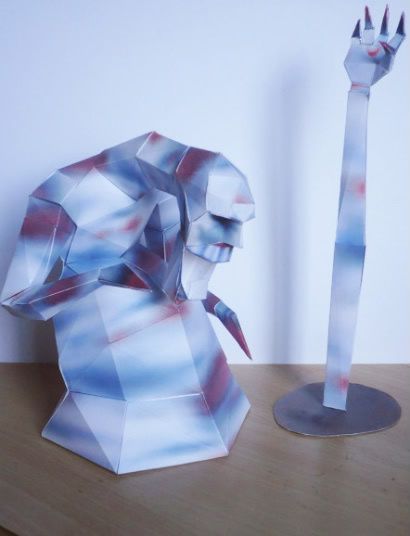 Dowload Here!
The Dead Hand itself is not too hard and I believe I got the template for the head quite good. The only tricky part, as with all 3D models is sealing off the whole thing. The elbows may be a little imprecise depending on your build and you might not get the true pose that the PDO shows. My build isn't posed right but still looks good.
The arm stalk's fingers are difficult, because of the small size, but there's nothing I can do about that. ;)
Difficulty:
Dead Hand: 6/10
Arm Stalk: 7/10, but only because of the small fingers. The rest is a very easy 2/10.