My first human shaped model since the Zora! And a nice Christmas present for you all too! And finally I've updated it to fix some minor but annoying errors.
Malon is the daughter of Talon of Lon Lon Ranch in
Ocarina of Time
, and teaches Link Epona's song when they are young. She is one of my favourite characters, despite only having a few small but major parts in the game.
This is the adult version of her ripped from
Ocarina
and stands about 20cm high. I made a poor version of her a while ago, but this is a vast improvement! Well actually I ripped Cremia from
Majora's Mask
who looks exactly the same. Except she isn't. Malon and Cremia have slightly different textures and geometry! Malon has a longer nose and neck, while Cremia is thinner, has a small pointy nose and different mouth and skirt textures. Well I think Malon looks better overall despite being slightly less detailed so here she is! But really, this model could be regarded as either!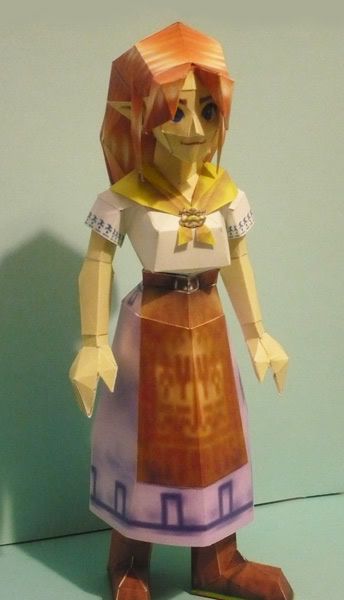 Download Here!
The model difficulty depends on your experience. Beginners will find it hard, experienced builders will probably not. If you can build my Zora well then it should be no problem. The only tricky part is the hair...
Difficulty:
6.5/10