Boing!! Here is a really easy model guaranteed to give you minimal grief, as well as being a cute little thing at only ~5.5cm tall!
Gossip Stones are strange objects found throughout Hyrule and Termina. It is believed they gather rumours and information to spread amongst themselves but will not easily tell their secrets to strangers. And even if they do, what they say might not always be useful!
The stones are excellent timekeepers and react very strangely if struck with a weapon or magic.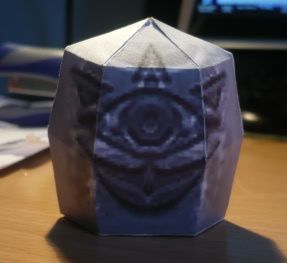 Download Here!
(updated link)
Drummyralf and I have noticed that different people's printers might make the template too dark or funny coloured, so feel free to edit it if the default version does not come out right!
The model is very easy. In fact the only slightly hard part is sticking the base cleanly on as it depends on how tight/loose you built the main piece.
Difficulty:
2/10